Everything You've Ever Wanted to Know About Airbags But Were Afraid to Ask

Hidden within the body of your vehicle, airbags are a pretty impressive component in your car's safety system. Drivers and passengers both have a much higher chance of surviving a crash when airbags deploy. Although we hope they remain safely tucked away for you, here are some good facts to know about those sophisticated safety features.
A LITTLE HISTORY
The idea of a "safety cushion" to protect vehicle occupants began in 1952 when retired industrial engineering technician, John W. Hetrick swerved his Chrysler into a ditch to keep from hitting a deer (unlike Hetrick, you have the opportunity to read helpful tips on avoiding this very thing in our blog post entitled How to Avoid Hitting a Deer). He and his wife reached out to try to protect their young daughter from being hurled into the dashboard when Hetrick got the idea for a kind of "safety cushion." His good idea became the patented prototype for today's airbags. Dual front airbags are now required by Federal Law.
HOW THEY WORK
The airbag is a thin nylon fabric filled with compressed sodium azide. When the built-in accelerometer detects a collision is imminent, a signal is sent and that chemical ignites an explosive, rapidly converting into harmless nitrogen gas and filling the airbag. This all happens even more quickly than the blink of an eye. The purpose of the airbag is to decrease the distance the human body can travel, thus reducing the potential for injury. The humble seatbelt, still not even required in every State, is critical to this process, however. The seatbelt restrains the human body from being mortally wounded by colliding with the airbag itself. So, in other words, there is never a good excuse to not wear your seatbelt.
The airbag isn't just for cars anymore, though. Did you know they are available to downhill skiers to protect them in case of an avalanche? They are packed into backpacks that, when deployed, will lift the skier above the torrent of snow that would otherwise bury them. And bicyclists can wear an airbag collar around their necks that will detect abnormal changes in the cyclist's movement and deploy, thus saving the cyclist from head and neck injuries.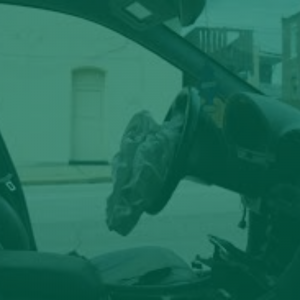 WHAT TO DO IF YOU'RE IN A CAR ACCIDENT AND THE AIRBAGS DEPLOY
Check to see if you've been injured and whether your passengers have sustained any injuries. Medical attention is more important than anything after an accident. Even if you're fine, however, don't drive the vehicle. Although the gases within the airbag are non-toxic, a powdery substance that is used as a lubricant to help the airbag deploy contains a small amount of sodium hydroxide. Sodium hydroxide is an irritant and should be washed off the skin as soon as it's possible to do so. It will also cause a smoke-like residue in the air.
Turn off the engine if it's still running.
Call the police. They will help you document the accident. Take photos and phone your insurance carrier. Your insurance company will guide and advise you in taking all the necessary steps after an accident.
Get your vehicle to a trusted auto body repair shop. Hammer's professional, friendly OEM Certified and I-Car Gold Certified Mechanics will help you determine necessary repairs, or help you plan your next steps if the car is deemed totaled.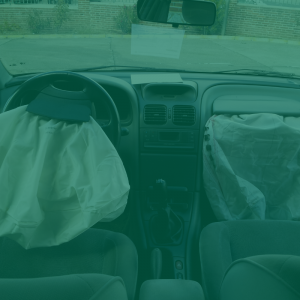 WHERE HAMMER'S AUTOWORKS COLLISION REPAIR SPECIALISTS COMES IN
As your family-owned, professional collision repair specialists, we've got 56 years of experience helping people move forward after unfortunate events. Your friends at Hammer's provide the highest quality collision repair, and we are honored to work with you, our valued customers and friends, to help minimize stress and get you back on the road with our best-in-class collision repair. Fewer than 5% of body shops in the entire nation meet the stringent requirements Hammer's maintains as Certified Collision Care Providers™. We work with all major insurance companies, and our work comes with a lifetime guarantee. We hope those airbags stay right where they are for you, but if you ever need us, we're here for you, and we'll get your vehicle fixed right.